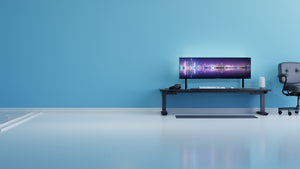 The only electric floor-sitting to standing desk.
The Most Versatile Adjustable Height Desk
Floor Sitting
Working on the floor offers many health benefits and experts believe it to be the most natural seated position.
Chair Sitting
Sitting can be a healthy option when paired with periodic movements like stretching and standing.
make a change
Benefits of Floor Sitting
Encourages natural stability and muscle activity, as well as improves flexibility and posture.
- Healthline, 2022
Shop Now
Uppeal Vs. The Competition
How We Compare
With 32" of total travel, Uppeal Desk offers the largest height range of any adjustable height desk. From the lowest position at 14.7" to the standing position at 46.7".
Smooth and Quick
Motorized Adjustment
Dual Motors allow for up to 250lbs of lifting capacity while ensuring smooth and stable height adjustment.
Who's Bragging About Us
Typical Assembly Takes 15 Minutes
Unbox
Uppeal desk ships in with all the tools required for assembly and detailed assembly instructions.
Bolt Together
Mount the support structure, legs and electronics box to the tabletop.
Plug In
Mount the control panel and flip the desk upright and you are ready to go!
Free Shipping
Free shipping to customers located in the lower 48 states. Our desks usually arrive within 4-5 business days after order receipt. See our shipping page for more info.
Order Now
What Our Customers Say...
★★★★★

Thanks again for producing this product!